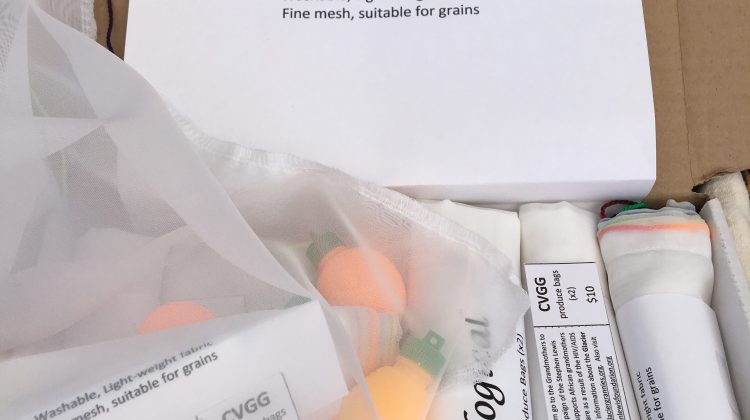 The Glacier Grannies are doing their part for both the environment and fellow grannies in Africa.
The Comox Valley group is making and selling reusable produce bags, along with re-usable beeswax covers to replace cling-wrap.
They'll be selling them at this weekend's Fiesta World Craft Bazaar at the Florence Filberg Centre.
The Grannies also hope to sell them at the Global Market on Dec. 7 at Campbell River's Timberline Secondary.
All proceeds will go to the Stephen Lewis Foundation, which supports grandmothers in Africa who are raising their orphaned grandchildren.
Glacier Grannies member, Virginia Philipson, said they are one of many groups across Canada that support the foundation's Grandmothers to Grandmothers campaign.
"What has happened often is that the grandmothers' own children have died in the HIV and AIDS epidemic and so the grandmothers have taken over the job of raising the grandchildren and through grassroots organizations, we support their efforts."
Philipson said one of the money-raising ideas they came up with, would be something that would help the environment.
"There's so much interest in environmental use right now and the eco wraps are a really good way of replacing plastic wrap and aluminum foil," she said.
Philipson said they're squares of colourful 100 percent cotton treated with a mixture of beeswax, jojoba oil, and resin.
"So they become very appliable. You can use them to cover a dish that's going in a refrigerator or maybe you're taking it to a potluck… so you do away with the necessity of plastic wrap."
Each set costs $15.
The produce bags are made from sheer, see-through fabric and can be used to bag fruit and produce at the grocery store.
Philipson said raising money by selling environmentally-friendly products makes sense, for two reasons.
"One, people are so interested in using environmentally-friendly products, now, that we thought that they would sell well and we're absolutely right, they do sell very well. And also, like everybody else, we want to do what we can for the environment. We all have grandchildren and we want to do our two cents worth in helping them have a better world."
Philipson expects the items to sell quickly at the two upcoming events.
Looking past that, she said the group is hoping for donations of beeswax as they consider making more of these products in the future.
For more on the Glacier Grannies or the Stephen Lewis Foundation, click here."